Tawny R. Hall – Senior Consultant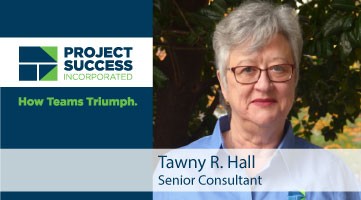 Tawny Hall is a PSI Senior Consultant, and as such she has provided services to clients both nationally and internationally. Her project background and experience includes a wide range of applications including: new process and new product development and introduction, special event planning, facility construction and start-up, acquisitions, facility closures, development of project management office implementation, and international sporting events. Tawny has over 12 years of experience in using and applying the Project Success Method as a consultant.
Prior to joining PSI, Tawny held process and environmental engineering positions, Total Quality Management and ISO 9000 development and auditing coordinator responsibility, and technical and operations managerial positions with firms in the chemical industry for over 25 years. She has extensive experience working with governmental entities both domestically and internationally on Environmental Regulatory Compliance, Contingency Planning and Emergency Management, and Environmental Emergency Response. Tawny has been instrumental in developing and implementing international Plans of Action to mitigate time-critical chemical and environmental emergencies. She was a lead instructor in the live-chemical emergency response training program developed in Baltimore, Maryland, which provided training and coordination with the United States Environmental Protection Agency along with various State and local Emergency Management and Environmental Protection Agencies. Tawny is a graduate of West Virginia University with a Bachelor of Science degree in Chemical Engineering and is named as co-inventor of the Continuous Phosphorylation Process represented in the United States Patent 4629803. In 2013, Tawny Hall was elected to serve as the District 1-H Governor (2013-2014) of the International Association of Lions Clubs, one of the world's largest Non-Governmental Service Organizations, where she was responsible for organizing and directing the national and international humanitarian service activities of 1,500 Lions Club members in the Central Illinois District.