THE CONVERSATION HIGHLIGHTS: RECAPPING THE FIRST HALF OF 2023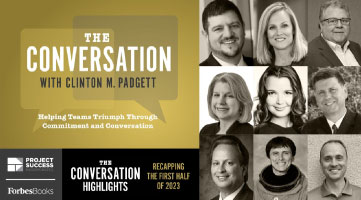 Episode Information:
On the podcast this week, Clint re-visits some of the best moments from the conversations he's had so far this year.
Cathy Orquiola, West Region VP of PCL Construction
Doug Bawel, CEO of Jasper Engines & Transmissions
Dr. Brett Walkenhorst, CTO of Bastille Networks
Dr. Franklin Chang-Diaz, Chairman & CEO of Ad Astra Rocket Company
Dr. Olga Kubassova, Founder & CEO of Image Analysis Group
Ed Mas, President of VOXX Automotive
James Sanduski, President of Sharp Electronics Corporation USA
John Zahurancik, President of the Americas of Fluence
Kristen Sanderson, VP of Customer Advocacy & Chief Diversity Officer, GE Digital.
Thank you to all my guests for joining me this year and sharing your thoughts, ideas, and expertise.
THE CONVERSATION HIGHLIGHTS: RECAPPING THE FIRST HALF OF 2023