OVERCOMING ADVERSITY, EMPOWERING TEAMS & MAKING A DIFFERENCE: A CONVERSATION WITH CINDY COOKSON (PART TWO)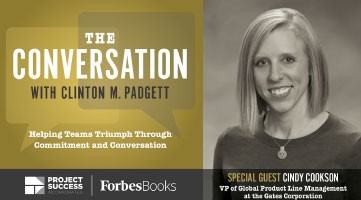 Episode Information:
Clint continues his conversation with Cindy Cookson, Vice President of Global Product Line Management at the Gates Corporation. During their chat, Cindy talks about adapting communication styles for different groups, inspiring eighth graders to pursue careers in manufacturing, and leaving their comfort zone to accomplish something new. Plus, Cindy talks about her life-long involvement in Girl Scouts and how it laid the foundation for achieving her goals. This is the second part of a two-part discussion.
OVERCOMING ADVERSITY, EMPOWERING TEAMS & MAKING A DIFFERENCE: A CONVERSATION WITH CINDY COOKSON (PART TWO)