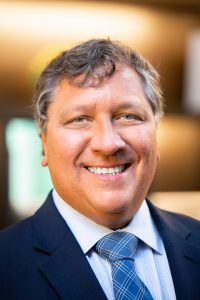 Clint Padgett
President and CEO
Clint is a seasoned entrepreneur with over 30 years experience as a project manager and leader. He is a published author, teacher and expert in team building and the art of conversation.
Since joining PSI in 1994, Clint has been helping leaders and their teams implement repeatable, sustainable strategies to deliver high-stakes projects on time, on target. Clint's vast level of experience positioned him to reshape the landscape of project management to better reflect today's new business models. With the modern organization becoming more fast, agile and highly reactive, it's imperative that companies use a method that's proven to actually work in the real world – not with tools that are just new and trendy at the moment. And that's exactly what Clint brings to the table – a collaborative, actionable approach that leads to team commitment and buy-in even in a matrix organization.  He delivers the knowledge and motivation that, when applied to strategic initiatives, transform businesses and create a competitive advantage.
Clint is a ForbesBooks Featured Author, ForbesSpeakers Thought Leader and frequently speaks at conferences on the subject of project management and teamwork, including the Executive Education program in the Scheller College of Business at the Georgia Institute of Technology, where he is an adjunct professor.
Clint's first book, Project Success Method, is a unique, proven and fire-tested methodology which allows companies, groups or managers to learn and develop consistency in the way they plan, schedule, manage, control and close out projects on time, per spec and within budget– in as little as 5 days.
Agile development has ushered in an obsession with adaptive planning and continuous improvement.  But the collaborative effort of cross-functional teams that it relies on is all too often built without a strong foundation.  Clint's upcoming book, How Teams Triumph: Managing By Commitment, provides the missing blueprint. He is a proponent of conversation as opposed to communication; these days, leaders and team members alike often communicate well, but conversation brings clarity and that ensures the right things get done.