MOTIVATION, INNOVATION & FOSTERING COLLABORATION: A CONVERSATION WITH JUAN GUTIERREZ (PART TWO)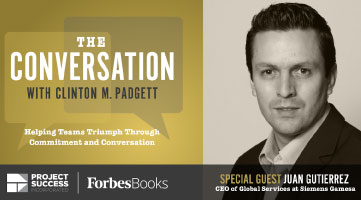 Episode Information:
Clint continues his conversation with Juan Gutierrez, CEO of Global Services at Siemens Gamesa. During their discussion, Juan talks about the importance of transparency in effective collaboration, gives tips for how to nurture innovation, and discusses ways to boost team motivation. Plus, Juan shares what it's like to be at the top of a wind turbine. This is the second part of a two-part discussion.
MOTIVATION, INNOVATION & FOSTERING COLLABORATION: A CONVERSATION WITH JUAN GUTIERREZ (PART TWO)