Mitch Espinosa – Senior Consultant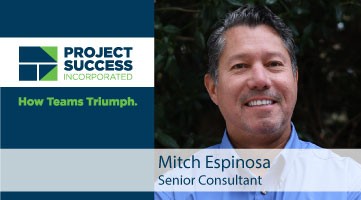 Since joining PSI in 2003, Mitch has provided consulting and other project support for clients in a wide range of industries including: heavy manufacturing, semi-conductors, and the electric utility sector. Mitch has worked in a broad variety of project types, mergers and acquisitions, international product localization, new product introduction (NPI), cost reduction and international sporting events. His consulting experience includes extensive international work that would include Italy, China, Japan and other locations within the Asia-Pacific region.
Past work experience prior to joining PSI includes 18 years in the plastics manufacturing medical industry as a Project Engineer, Design Engineer, Manufacturing Engineer & Test Engineer. This also included development of manufacturing cleanrooms and working on ISO 9000 compliance processes.  Mitch also worked for an airline company as a Project Management Office (PMO) Manager to develop and build their PMO office.
Mitch received his Associates Degree at Morton College, IL.  and finished his Bachelor of Science in Mechanical Engineering on-line at the University of Minnesota.
Currently living in Minnesota, he is a proud member of the Excelsior Lion's Club.