LEADERSHIP, MENTORSHIP & CREATING A BETTER FUTURE FOR HUMANITY: A CONVERSATION WITH BEVERLY RIDER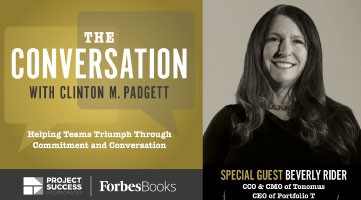 Episode Information:
Clint has a conversation with Beverly Rider, CCO & CMO of Tonomus and CEO of Portfolio T, a Tonomus Company. Clint and Beverly talk about using technology to improve humanity, why leaders should take all the blame and give away all the credit, and how to use mentorship as a means to grow your own knowledge and skill set. Plus, Beverly ponders what the perfect human existence of the future would look like.
LEADERSHIP, MENTORSHIP & CREATING A BETTER FUTURE FOR HUMANITY: A CONVERSATION WITH BEVERLY RIDER